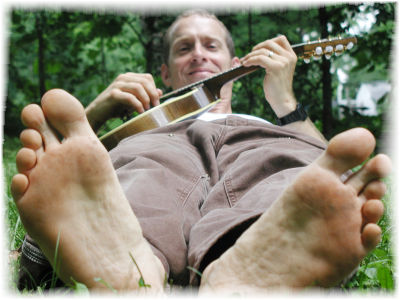 Musician
When I was 9 my mother bought me a jawharp, but I really wanted to play the drums. She bought me drum... sticks and I played the couch, the dinner table, and dented all the lampshades. I did eventually get a snare drum but by this time my parents were ready for me to move on and suggested the banjo.
Looking back now, the banjo wasn't much of a step up. My parents liked banjo music, and I think they were scared where drumming might lead me. Amazingly, the banjo took. I taught myself how to play when I was 14, listening to Pete Seeger, the New Lost City Ramblers, the Clancy Brothers, Doug Dillard, and of course, Earl Scruggs. I knew better than to share my new musical obsession with my friends.
My high School bus driver was a musician and he took me to my first contra dance in 1977. The dance was in the basement of St. Thomas' Church in Underhill, Vermont. It was a wild scene. I don't know what was more exciting, dancing with girls or watching the musicians and imagining playing in a band. When I tried to learn them, the contra dance tunes didn't fit that well on the five-string, so I dusted off my grandmother's mandolin and impulsively purchased an unplayable tenor banjo from a window display at a department store. I learned to play them both. In 1985, I went on a two month tour with the Green Mountain Volunteers, clogging and playing the banjo at festivals in eastern and western Europe. When I got home there were many opportunities to play dances all over New England, and I played as many as I could. I studied with Bob Wills' legendary mandolin player, Tiny Moore, and Peter Ostroushko (of Prairie Home Companion.) I formed a number of bands and sat in, conspicuously, with Jay Ungar and Molly Mason, and Wild Asparagus, an increasingly popular band. My touring spread from New England to the Eastern Seaboard to nationally in a few short years.
In 1992, I met my future wife who performed with Rhythm In Shoes, a percussive dance and music company from Dayton, Ohio. This crazy, fifteen member concert ensemble quickly absorbed me, as much for reasons of nepotism as for my musical prowess. In my five year tenure with the company, we logged thousands of miles playing notable venues like the Jacob's Pillow Dance Festival, Wolf Trap, and the National Folk Festival. In spite of this success, we never fully departed from the occasional gig on wobbly risers in the middle of a noisy mall or for kindergarteners on a ketchup-dotted "cafetorium" floor. I joined Rhythm In Shoes again in the summers of 2004 and 2005 for an historically recreated and embellished Vaudeville production in honor of Dayton's centennial of the birth of flight.
I play three traditional styles of music: Irish, old-time American, and contra dance tunes. Each has a distinct form. Because I know too much, it would be easy to fuse all of these into one eclectic mess, something I consciously avoid. I do love to attempt innovation within the styles and compose tunes adhering to time-honored, unwritten rules, and also nudging them a bit. I wrote Evil Diane along these lines, and included a musical virus in the structure that makes it difficult NOT to repeat the tune once it has ended. My all-original CD of the same title was profiled on NPR's All Thing Considered Christmas Eve 2004, and is still regularly heard on that show.
I currently make most of my living touring the country playing for contra dances. I gig with numerous musicians and bands, some of whom I have been playing with for over 20 years. But as my family expands, I love to be at home, torturing them with obscure banjo recordings, or practicing in the resonant bathroom while my son is in the tub.